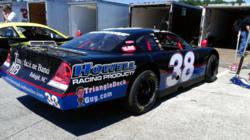 Cary, NC (PRWEB) July 11, 2013
Dennis Sargent may look like your average bankruptcy attorney in a suit, but this Saturday, he ditches those duds for a driving suit and hits the speedway.
I love the thrill of driving on the track, said Sargent, who has only been racing since 2000. I love the camaraderie and teamwork needed to be successful.
Sargent, who will race again June 13, 2013, is a third-generation racer, following his father and grandfather onto the oval. He races limited late model stock cars at the Orange County Speedway, the Wake County Speedway and the Southern National Motorsports Park.
While bankruptcy and the law may seem a far drive from racing a stock car, Sargent said there are some similarities.
Racing and the practice of law, especially bankruptcy, require similar attention to detail skills, he said. As with bankruptcy, racing involves so many little moving parts. Small changes can have a ripple effect on the outcome of a race, just like small details in bankruptcy can have a ripple effect on the outcome of a case.
Lessons on the track, too, can turn into lessons in his work life.
Every time you have a bad day on the track, it is discouraging, especially when you are not sure of what caused it, Sargent said. Like in bankruptcy, when bad things happen, you just have to pick yourself up and continue on. Racing like life is a constant learning experience, every time I race I feel like I learned something.
This year, Sargent is teaching his son, Dennis Sargent III, to become the fourth Sargent to take to the track. Dennis III has raced twice at Wake County Speedway and will soon try the Orange County and Southern National tracks. Sargent Jr. is proud to see his son become part of the racing community.
Racing is a very tight knit community, and there is a lot of family racing at the local level, he said. Now that hes there hes hooked of course. Racing is like a disease, once its in your system its hard to quit.
About Dennis Sargent Jr.

Dennis Sargent is a local race car driver and attorney at The Law Office of Dennis Jay Sargent Jr., PLLC. LODJS is a debt relief agency, helping people in the Raleigh and Cary area file for Chapter 7 or Chapter 13 bankruptcy relief under the United States Bankruptcy Code. He is a proud member of the National Association of Consumer Bankruptcy Attorneys and the American Bankruptcy Institute. Learn more at http://www.sargentlawnc.com/.