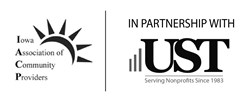 Santa Barbara, Calif. (PRWEB) February 11, 2014
The Unemployment Services Trust (UST) is pleased to announce its new affinity partnership with the Iowa Association of Community Providers (IACP). IACP has chosen to join forces with UST to help their nonprofit members reduce operating costs and direct more money toward realizing their missions.
This newest partnership will allow organizations with a 501(c)(3) tax designation in Iowa to better take advantage of the federal law that allows nonprofits to opt out of the state unemployment tax system. By paying only the dollar-for-dollar cost of unemployment benefits paid to former employees, organizations that join UST lower their average claims cost to just $ 2,287 per claim versus the national average of $ 5,174 per claim.
"Throughout the country there are so many nonprofit associations that could undoubtedly benefit from partnering with UST, but we're very selective in who we choose to partner with," said Donna Groh, Executive Director of UST. "Our partnership with each of our affinity partners stems from a mutual desire to provide their members with the most cost-effective opportunities."
About the Iowa Association of Community Providers (IACP): IACP is committed to promoting healthy and secure communities in which people served have access to appropriate services and supports which enable them to be a part of their community. All 150 community-based member organizations provide quality licensed & accredited services to children & adults with mental illness and mental health related issues, intellectual disabilities, brain injury and other development disabilities. For more information, visit iowaproviders.org.
About UST: Founded by nonprofits, for nonprofits, UST is the largest unemployment trust in the nation, providing nonprofit organizations with 10 or more employees a safe, cost-effective alternative to paying state unemployment taxes. UST has partnered with 80 state and national nonprofit-based associations to teach their members about their unemployment insurance alternatives. Visit http://www.ChooseUST.org to learn more.