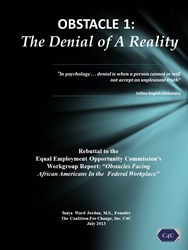 Washington, DC (PRWEB) August 08, 2013
The Coalition For Change, Inc. (C4C) recently issued a comprehensive report addressing seven (7) major obstacles hindering equal opportunities for African Americans in the federal work force. The report, entitled Obstacle 1: The Denial of a Reality, rebuts the Equal Employment Opportunity Commissions (EEOC) African American Workgroup report findings issued in March 2013. The C4C report identifies the EEOC as one of the many formidable obstacles facing black federal employees. The group says the upward trend in complaints alleging race (Black/African American), reflects EEOC's failure to enforce civil rights laws and to eradicate discrimination from the workplace.
We found it needful to formally document our concerns because the EEOC-issued African American Workgroup report simply left too much unsaid, stated C4C's founder Tanya Ward Jordan. The EEOC reduced the discrimination discourse to "unconscious biases" and totally ignored the reality that some public officials, who establish our nation's public policies and programs, act quite consciously on their biases.
The C4C Publications Chair, Ms. Janel Smith stated, It was troubling to read how the EEOC, as the nations premier anti-discrimination enforcement agency, pushed the feeble unconscious biases theory in the report; yet failed to address the grave impact of intentional race discrimination on the lives and well-being of so many African American federal employees. Many have been wrongfully uprooted from their jobs and left without health care because of race discrimination and / or reprisal."
C4C's Federal Workplace Evaluation and Reports Committee prepared the report, Obstacle 1: The Denial of A Reality, after in-depth research and extensive consultations with civil rights organizations and class agents who have filed race-based employment class action complaints against various federal departments. Dialogue partners in the report included the No FEAR Coalition, the U.S. Department of Agriculture's Coalition of Minority Employees, the International Association of Whistleblowers, and the Black Females For Justice II at the Social Security Administration.