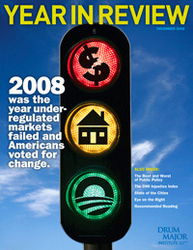 New York, NY (PRWEB) December 11, 2008
From inside Capitol Hill to City Halls and Statehouses around the country, elected officials this year missed opportunities to save homeowners, invest in infrastructure, prevent global warming, and give workers paid leave, but they did try to go after predatory lenders, incentivize development near mass transit, help prisoners re-enter society, clean up dirty ports, and propose other legislation that would benefit Americans during a time of increasing economic crisis, according to the 2008 Year in Review released today by the Drum Major Institute for Public Policy (DMI).
The report looks behind the biggest headlines to offer a fresh examination of urban, state, and federal policy ideas affecting how many current and aspiring middle-class Americans live. It dissects ten progressive and ten regressive proposals, offering President-elect Obama, Congress, and other elected officials examples of model policies that can inform future legislation, along with examples of what to rethink or abandon.
"There have been images lately of governors and mayors going to Washington, but our Year in Review highlights instances where the pilgrimage should be reversed and federal leaders can learn more from state and local policy innovations," said Andrea Batista Schlesinger, executive director of The Drum Major Institute for Public Policy. "We fill a void by highlighting key economic, environmental, and labor policy ideas that have been either proposed or enacted despite the constraints of ideology and demands of politics."
The best public policy ideas include:

Clean Air Action Plan (City of Los Angeles)
Helping Families Save Their Homes in Bankruptcy Act (U.S. Senator Dick Durbin)
Preventing businesses from cheating employees (New York State executive order)
The Second Chance Act (U.S. Senator Joe Biden and U.S. Representative Danny Davis)
Healthy San Francisco (City of San Francisco)
The Family Leave Insurance Act (U.S. Representative Pete Stark)
The National Infrastructure Bank Act (U.S. Senators Chris Dodd and Chuck Hagel)
The Children's Safe Products Act (State of Washington)
The New GI Bill (U.S. Senator Jim Webb)
The SB 375 green growth bill (State of California)
The worst public policy ideas include:

Immigration enforcement as labor suppression (Immigration and Customs Enforcement)
Not regulating harmful chemicals in drinking water (Environmental Protection Agency)
The original Paulson Bailout plan (U.S. Treasury Department)
Disenfranchising voters through restrictive voter identification (State of Indiana)
Colombia Free Trade Agreement (Bush Administration)
The gas tax holiday (Senator John McCain)
Budget cuts that harm the poor, the sick, the elderly and children (State of Rhode Island)
Discriminatory policing of Latino residents (Maricopa County, Arizona)
Using public subsidies to increase healthcare costs for residents (State of Georgia)
The Foreign Intelligence Surveillance Act (Bush Administration and Congress)
Also included is the DMI Injustice Index, a by-the-numbers appraisal of the Bush legacy.
About The Drum Major Institute for Public Policy (DMI)

Based in New York City, the Drum Major Institute for Public Policy (DMI) is a nonpartisan, nonprofit think tank founded during the civil-rights movement that puts the sharpest ideas and most effective tools into the hands of those advocating on the frontlines for progressive economic and political change. Its work is defined not by geography or issue niche but by approach. DMI conducts research to hold policymakers accountable for their support of policies that strengthen and expand the middle class; highlights models of progressive policymaking that should be replicated; and advances the arguments that help progressive leaders and advocates govern effectively. DMI is known for starting one of the first public policy blogs and pioneering the use of Google Adwords to raise awareness of how elected officials vote on issues of importance to their constituents and the public. For more information, visit http://www.drummajorinstitute.org.
###
Related Bankruptcy Act Press Releases