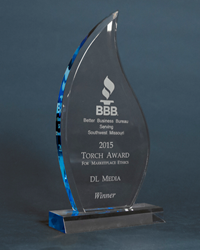 Nixa, MO (PRWEB) March 06, 2015
DL Media was honored with the 2015 BBB Torch Award for Marketplace Ethics in the medium-sized business category. The banquet was held on March 5 at the Ramada Oasis Inn and Convention Center in Springfield, Mo. Local celebrity, Joe Daues, served as host and Brent McCoy, vice president of Springfield Chamber of Commerce, served as the keynote speaker. Attended by over 330 business people and community leaders, this was the largest Torch Awards banquet in history.
The Torch Awards for Marketplace Ethics is open to all for-profit businesses in southwest Missouri that provide goods or services to retail and/or wholesale markets. The companies are judged on excellence in customer care, marketplace excellence, advancing marketplace trust and consumer leadership. This year's judging panel consisted of Sherry Coker, director for OTC Center for Workforce Development; Loa Freeman, president/owner of Success Naturally Yoga & Image Center; Don Louzader, KTTS News Director at Journal Broadcast Group; Dan Prater, director of The Center for Nonprofit Communication at Drury University; and Joe Stokes, president/CEO of Consumer Credit Counseling Service of the Ozarks.
"We are humbled and honored to receive this prestigious award," said Dianne Davis, owner and president of DL Media. "On March 21 of this year, DL Media will be 18 years old. I cannot think of a better way to celebrate our anniversary than receiving the Torch Award from the Better Business Bureau."
DL Media also earned the Principles of Trust Award which recognizes members who have excelled at establishing trust in the marketplace. This award is given to members who have not received any complaints with the BBB in the standard three-year reporting period.
Founded in 1997, DL Media is a full-service digital marketing and advertising agency headquartered in Nixa, Mo. The agency works to advance clients' businesses by helping solve marketing challenges through relevant, engaging and compelling communications. For more information about DL Media visit dlmedia.com.