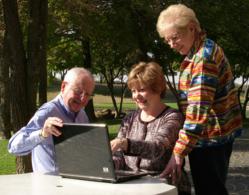 Plano, TX (PRWEB) September 25, 2012
Computer School for Boomers & Seniors is now accepting enrollments and is on a mission to help Grandma and Grandpa become more computer literate. I have a grandson who knows more about computers at six than I did when I was fifty, said Mimi Witcher, Founder of CS4Seniors (http://www.cs4seniors.com). My grandchildren are growing up with technology. They have computers, IPads, Smartphones and IPods. They text, surf and click all day long. We missed out on all that, said Mimi. But our generation needs to get with the program. We need to become computer savvy.
Computer School for Boomers & Seniors is a virtual campus with a mission to empower their students by providing encouragement, lifelong learning opportunities and new worlds to explore via the Internet. Im very serious when I say there is a need. Just look at what is happening all around us, said Mimi.