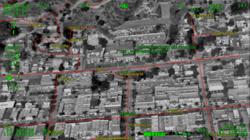 Oxnard, CA (PRWEB) February 12, 2013
AeroComputers Inc., a global leader in the airborne special mission systems market, announced that it has hired Mikael Via to fill the newly created position of Executive Vice President, Chief Operating Officer. Via comes to AeroComputers from Glasair Aviation in Washington where he was President and CEO.
Effective immediately, Via will assume responsibility for marketing/sales, R&D, engineering, operations and customer service.
"Mikael has a proven track record of creating customer-focused and technically innovative businesses that bring value to customers, employees, and shareholders alike," said Mark Gassaway, President and CEO. "We are pleased to be able to recruit Mikael to our company."
Via brings to AeroComputers years of experience leading high-performing, entrepreneurial teams in launching and growing innovative businesses. Under his most recent leadership at Glasair Aviation, the company was brought out of bankruptcy, formed a unified team of employees, consolidated operations, designed and developed new aircraft, and introduced the revolutionary "Two Weeks To Taxi" program, all of which propelled Glasair to become a market leader in the aviation industry.
"I am incredibly energized to help lead AeroComputers to its next phase of innovation, by working with the AeroComputers team and our customers to bring next generation products to market", said Via.
An active pilot with a lifelong passion for aviation, Via has extensive hands-on experience with aircraft manufacturing, construction and assembly. He has built two experimental aircraft and currently owns and flies a Glasair and a Cirrus SR22TN.
AeroComputers, Inc., based in Oxnard, California, has been designing, building and marketing computer systems that manage tactical operations for public use and military aviation since 1993. Currently employed by over 180 law enforcement, fire, military and other public safety agencies worldwide, AeroComputers is the industry leader in providing mission management systems that integrate high-precision GPS-based moving maps, EO/IR sensor command, video processing and recording, and mission telemetry collection and transmission. AeroComputers' complete suite of products includes DO-160 certified mission management systems, high definition display monitors, digital video recorders, inertial measurement units, a range of ruggedized keyboards, and customized GIS and cartography services.
AeroComputers is a GSA contract holder: #GS-07F-6087R

State of California Certified Small Business #1712420

NAICS code: 334111

Cage Code: 39EX5