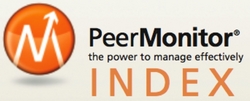 Eagan, Minn., (PRWEB) December 4, 2008 –
Like the financial markets, the legal market exhibited significant swings in performance in the third quarter, with the Peer Monitor Economic Index (PMI) from West falling two points from the second quarter. Continued weak demand and low productivity for law firms dragged the PMI down despite a rebound in demand late in the quarter.
Click here for a Podcast featuring commentary on the 3Q PMI by Peer Monitor National Manager, Mark Medice.
PMI is a composite index of law firm market performance using real-time data drawn from major law firms in the U.S. and key international markets. As the economy slows, PMI has been trending lower, dropping in 5 of the last 7 quarters.
Top 100 law firms are experiencing weaker demand than most other firms. While key practice areas, such as corporate work, continue to slow, the economic turmoil is creating increased demand for counter-cyclical practice areas. Bankruptcy fees are up over 17% compared with a year ago. Regulatory work associated with finance and securities is up 30%. The third quarter also saw the first signal of a slowdown in IP work.
Firms are trying to control expenses in order to mitigate the impact of slowing demand. Associate hiring is slowing as firms seek to balance headcount with demand. In addition, firms are reining in their expense growth.
"There appears to be greater uncertainty in forward planning than seen in more recent years," said Mark Medice. "A particular concern is the prospect of a drop in Q4 collections. Many firms are experiencing collection issues and are already taking precautionary actions to mitigate any downside effects on profitability."
Continued economic stress could lead to significant changes to the legal industry, including an accelerated rate of consolidation and underlying structural business model changes, such as increased investment in counter-cyclical practice areas. For some firms, the economic turbulence may lead to opportunities for strategic expansion, new practice areas and targeted geographic office openings.
For more information about the PMI and to review the latest PMI report, visit http://peermonitor.thomson.com.
About West

Headquartered in Eagan, Minn., West is the foremost provider of integrated information solutions, software and services to the U.S. legal market. West is part of Thomson Reuters. For more information, please visit the West Web site at west.thomson.com.
About Thomson Reuters

Thomson Reuters is the world's leading source of intelligent information for businesses and professionals. We combine industry expertise with innovative technology to deliver critical information to leading decision makers in the financial, legal, tax and accounting, scientific, healthcare and media markets, powered by the world's most trusted news organization. With headquarters in New York and major operations in London and Eagan, Minn., Thomson Reuters employs more than 50,000 people in 93 countries. Thomson Reuters shares are listed on the New York Stock Exchange, Toronto Stock Exchange, London Stock Exchange and Nasdaq. For more information, go to http://www.thomsonreuters.com.
###